If you are having a Halloween party at your house or need to take some treats to school for a class party, these are sure to be a hit. The best part? They take almost no time to make.
Witch Hat
This witch hat is made from a striped shortbread cookie and a chocolate kiss. I used a little tube of red sparkle gel because that's what I had on hand (and I didn't have time to go back to the store), but green, orange, yellow, or purple would be fun for the band too. Turn the cookie upside down, then just put a little gel on the bottom of the kiss to make it stick to the cookie. Add a little ring of gel around the kiss and voilà, you're done!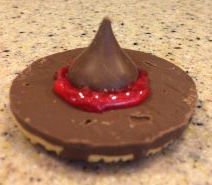 Witch's Broom
Of course you have to have a witch's broom to go with the hat! For this one you just need a mini peanut butter cup and a pretzel stick. It doesn't get much easier than this! Just unwrap the peanut butter cup and stick the pretzel in!

Spider
This spider won't scare the kids. It's just as yummy as it is cute too. You just need a chocolate sandwich cookie, pretzel sticks, and some edible eyes, plus a little frosting (or peanut butter, chocolate spread, or even the cream filling from an extra cookie!). Open the cookie, place four pretzels on each side, add a little of the frosting (or any "sticky" substitute), and put the top back on. Put a dab of frosting on the back of each eye and place them on the cookie and you're done. How easy was that?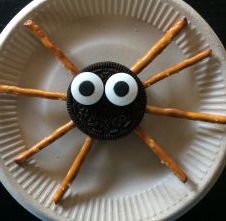 Bat
This bat is so cute, and with a peanut butter cup for the body, and cookie for the wings, it's sure to please. This one is super simple to assemble, however getting the wings right took a couple cookies. If you are having kids assemble their own, you probably want to have the wings ready for them.
To make the wings, open up the cookie, scrape off the cream filling (save that... you'll use the filling) and break the chocolate cookie in half. It took both sides of the cookie for me to get two wings that looked like a match, but I was okay with that because I got to eat the "reject" pieces! Once you have the wings, unwrap the peanut butter cup, place a dab of the filling on the end of the cookie wings and stick them to it. Then put a little of the filling on the edible eyes and stick them in place. That's it!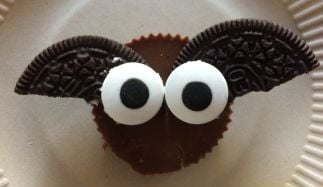 All of these treats are easy enough for kids to make themselves, so if you're having a party they could assemble their own! Pick up the supplies for these, add a couple simple craft projects, and you're ready for a party!