No one wants to turn their stove on in the hot summer months! But that doesn't mean you have to give up a family favorite -- pizza! Instead, put that pizza on the grill for a delicious -- and easy! -- dinner the whole family will love.
One of the things I love about pizza is that it's easy to get your kids involved in the process. I give each kiddo their own pizza crust and let them choose toppings -- even if they are just leftovers from the fridge!
I love working together in the kitchen as a family because it promotes so much conversation -- something not always easy with teenagers in the mix! I love that cooking together promotes family time and feeds the family.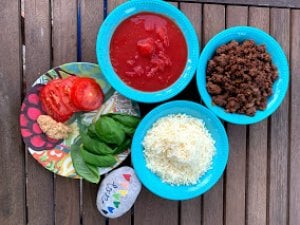 Grill the dough:
Take your dough out of the fridge and let it get to room temperature.
Heat up the grill.
Spray your pizza stone, cookie sheet, or pizza grill pan generously with olive oil.
Stretch out your dough and put it on your pan.
Brush the top with olive oil.
Sprinkle with salt and pepper.
Close the grill and cook for six minutes at 500 degrees.
Take off and let cool.
Once your dough is made, it's time to get ready for the fun part -- adding your toppings! Here are three ideas for pizzas my family loves. The amount of ingredients here generously feeds our family of five!
Base ingredients:
Grilled pizza dough
5 cups of red sauce
2 packages of shredded mozzarella cheese, 8oz each
Salt and pepper to taste


The Meat-za
1/2 cup beef
1/2 onion
1/2 cup of sauce
2 cups mozzarella cheese
10 slices salami
10 slices pepperoni
Directions:
Brush the crust with sauce.
Add half the cheese.
Add salami and pepperoni.
Add beef and onion.
Add second half of cheese.
Salt and pepper to taste.
Grill for six minutes at 500 degrees.
Slice and serve.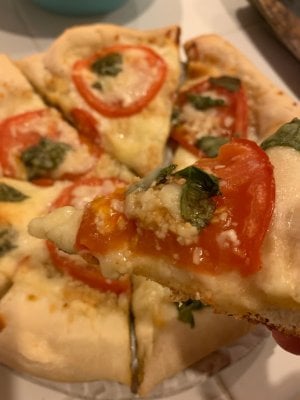 Margarita Mamacita
1 Tbsp. of minced garlic
Olive oil
1 tomato, thinly sliced
6 basil leaves
2 cups shredded mozzarella cheese
Salt and pepper
Directions:
Brush with light olive oil.
Add a pinch of salt and pepper.
Add half of the cheese.
Sprinkle minced garlic.
Add tomato.
Add basil.
Add second half of cheese.
Grill for 6 minutes at 500 degrees.
Slice and serve.


Cheesy Stuffed Crust
3 cups shredded mozzarella cheese
4 Tbsp. sauce
Salt and pepper to taste
Directions:
Add light sauce.
Add shredded mozzarella cheese.
Layer the mozzarella heavy on the outside of the crust.
Fold the dough over the cheese and tuck it under.
Add salt and pepper.
Grill for 6 minutes at 500 degrees.
Slice and serve.
We hope you enjoy grilling pizza as much as we do! Mangia!
Want to be part of our Macaroni Kid foodie family? Sign up to get Macaroni Kid EATS! in your inbox once a month for free!