It's that time of year again -- apple picking season! Fall is typically the time for apple picking in most parts of the United States, and is always a fun thing to do with kids. But, if you're like us, you typically have a lot of apples to use up after a day of apple picking. No worries -- we have four amazing apple-based recipes your family is sure to love:

Nanny's Apple Pie

Ingredients:
5 Tablespoons sugar
2 Tablespoons flour
3 teaspoons cinnamon
About 9 cups apples (8-10 medium apples)
2 Tablespoons butter, cut into small pieces
1 egg white
Two uncooked pie crusts
Directions:
Peel, core, and thinly slice the apples; add to a large bowl.
Add sugar, flour, cinnamon, and butter together with apples.
Roll out and place an uncooked pie crust in the bottom of a deep 9-inch pie plate.
Add the apple mixture on top of the pie crust.
Place the second pie crust on top and press down gently, marrying both crust edges together (I fold the bottom crust over the top crust, making a folded look).
Beat the egg white in a small bowl, then gently brush a thin layer of egg white on the top pie crust.
Bake at 400 degrees for 1 hour.
If the crust starts to look brown, cover with tin foil.
Let cool for 10 minutes before serving with vanilla ice cream.
Applesauce Bake


Ingredients:
20 ounces of your favorite applesauce (or use this homemade recipe)
1 cup of sugar
1 stick of butter
5 eggs
5 pieces of white bread torn into pieces (leftover hot dog or hamburger rolls work as well)
Directions:
Preheat the oven to 350 degrees.
Put torn bread in the bottom of a greased casserole dish.
Put all other ingredients in a food processor and pulse just until butter is broken into small pieces (about 5 quick pulses).
Pour over bread and bake for 60 minutes.


Apple Nachos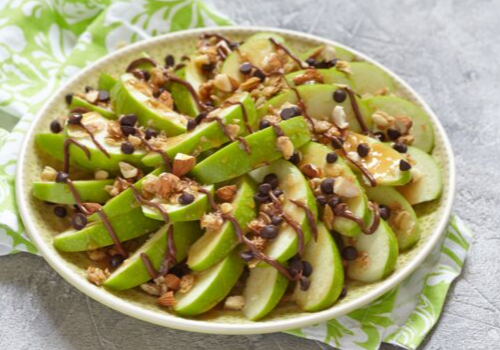 Ingredients:
Sliced apples
Caramel sauce
Chocolate sauce
Handful of granola
Handful chopped almonds
Mini chocolate chips
Directions:
Wash, core, and slice apples thin.
Spread half of the apple slices on a dish, then drizzle with sauces and sprinkle half of your granola, nuts, and chocolate chips.
Layer the rest of your apples and drizzle more of the sauces and top with remaining granola, nuts, and chocolate chips.


Roasted Butternut Squash and Apples


Ingredients:
2 pounds butternut squash, peeled, seeded, and diced
2 apples, cored and diced
4 Tbsp butter
1/4 cup brown sugar
1/2 tsp cinnamon
pinch salt
Directions:
Preheat oven 425 degrees.
Put butternut squash and butter into an oven-safe dish, sprinkle with brown sugar, cinnamon, and salt.
Cover and bake for 30 minutes.
Carefully remove from oven and add apples.
Bake uncovered for an additional 30 minutes.

GIVEAWAY ALERT:
This story originally appeared in Macaroni Kid EATS!
Prize value is $24. Contest ends Nov. 18, 2019. Must be a resident of the United States to be eligible to win.