My 9-year-old son has discovered podcasts during the pandemic, and it turns out I enjoy his favorites as much as he does! Here are 5 of our favorite kid-friendly podcasts: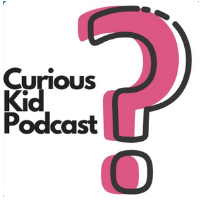 Description: Join Jacob and his 6-year-old Olivia as they learn fun and educational things. They take on a new topic each episode with the goal of providing an educational and entertaining experience for listeners of all ages.
Why my son loves it: This podcast goes over fun subjects such as animals, vehicles, bodily functions (always a childhood favorite), and nature. He thinks it's really funny, but it also just intrigues him. He also loves that they involve their audience by reading mail from them at the beginning of the episode.
Why I love it: It's really educational, but far from boring! The relationship this father-daughter duo has is super cute and draws you in.


Description: Created and produced by parents of young children, WBUR's Circle Round is a podcast that adapts carefully-selected folktales from around the world into sound- and music-rich radio plays for kids ages 4 to 10. Each 10- to 20-minute episode explores important issues like kindness, persistence, and generosity. And each episode ends with an activity that inspires a deeper conversation between children and grown-ups.
Why my son loves it: He really gets sucked into these stories. The way they are told grasp his attention so much that he has asked for us to just sit in the car to finish the episode when we've reached our destination. He also like to try to guess how the story will unfold and gets excited when he's correct.
Why I love it: Not only does my oldest really get into these stories, but my almost 3-year-old also enjoys listening to them. The narrator's voice is very soothing — which to me is a big deal. I also love folktales in general and the lessons these stories teach. Many of these stories are tales even I have never heard. Plus a bonus: The Circle Round website attached to this podcast has so much! You'll find a complete narrative of each episode typed out, along with coloring pages the kids can color while listening, and talking/thinking points to go over with your children after listening.


Description: Noodle Loaf is an interactive podcast born from the brain of a music education specialist father, Dan Saks, and his goofball kids (pictured above). For about 10 minutes at a time, Noodle Loaf invites families to join together for some creative fun. The show is geared toward kids 3-9 years old, but we've seen kids of all ages get into it.
Why my son loves it: The songs are super silly and catchy. He also loves that kids can send in subjects, their favorite jokes or even vocals to be added to their "Noodle Loaf Choir." He's been going through all his joke books lately to try to find the perfect joke to submit to them.
Why I love it: It keeps both my 9-year-old and toddler interested and often laughing. The subjects they go over are often educational but fun enough that the kids don't even notice they're learning. The episodes are also pretty short so it's a perfect podcast to listen to while running a few quick errands around town!


Description: The Family Road Trip Trivia Podcast is the brainchild of Jude, Wyatt, and Gigi Gibbons.Three siblings from Ohio who love trivia, traveling, and relentlessly competing with each other. Together with their mom and host, Brittany, they invite friends of all ages to accept the ultimate three-round trivia challenge every Friday. Whether it's pop culture, science, video games, or Disney, their depth of knowledge is endless, and just like The Goonies, when it comes to trivia the Gibbons kids never say die!
Why he loves it: If there's a chance he can compete with me in any way, he's all for it! He also thinks the Gibbons family banter is funny. He's talked about how he'd love to meet the Gibbons and have a trivia contest against them!
Why I love it: Much like my son, I love some good old competition. I love the way this show pushes him to learn new things and expand his range of interests. I also love how the Gibbons' personalities shine through without overpowering the theme of the show. These episodes are also pretty short — typically about 10-16 minutes — so again they are perfect to listen to while running errands around town.


Description: 'But Why' is a show led by you, kids! You ask the questions and we find the answers. It's a big interesting world out there. On But Why, we tackle topics large and small, about nature, words, even the end of the world.
Why my son loves it: The subjects they touch on are things that he's curious about. You'll find episodes with titles like "Do animals get married?" and "Why do we poop and fart?" He also really likes that all the episodes are created by questions that children send in.
Why I love it: This podcast has helped me out so much because many of the questions they've answered are questions that my kid(s) have asked me and I don't always have the answer! It's educational and so interesting; silly but still very accurate. It's something I think kids of any age would enjoy listening to.
Hope this list helps your family find a new favorite podcast!

Tatum Fairley is the publisher of Macaroni Kid Gloucester N.J.