You are now entering a JUNK FREE ZONE.
Ummmmm, I'm pretty sure that is not my kids' favorite zone. Who's with me?
Fast forward to our latest snack obsession... Mavericks Kids Snacks lightning bolts of goodness are rocking our universe with their "Cookiez" and "Crackerz", and my natural born snackers could not be happier. Plus, this mom is thrilled to have found a grab and go, better-for-you snack that I can feel good about giving my kids that is offered in both sweet and savory flavors. Wholesome just got AWESOME.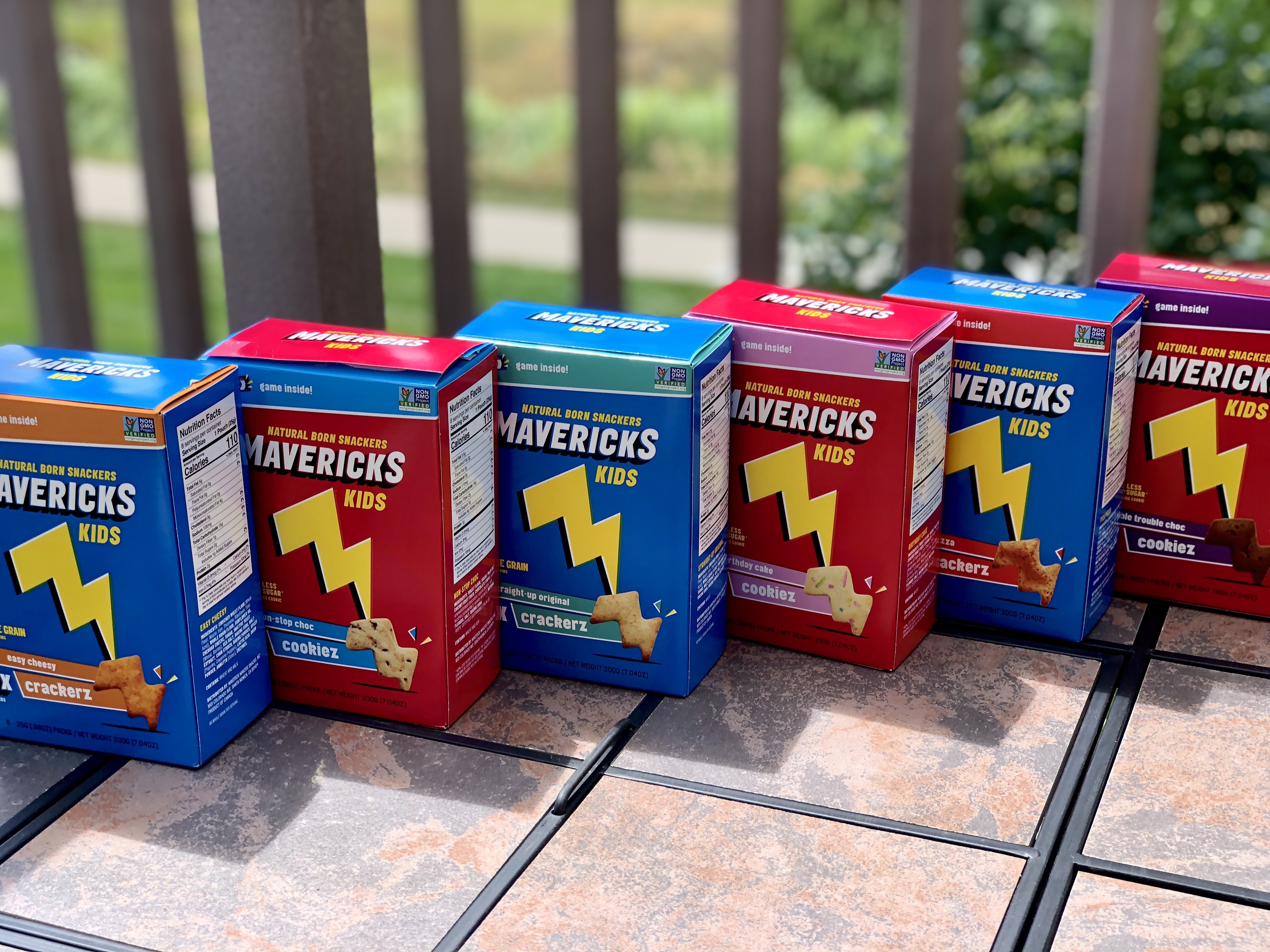 Mavericks Snacks are definitely Mom-approved. So, why do I love them?
All of the flavor options are made with high quality, non-GMO ingredients, and include no artificial colors, preservatives, or syrups
Mavericks Snacks are peanut-free and vegan; a huge bonus when you are the resident "snack mom"
The Cookiez contain 40% less sugar than the leading kid's cookie (only 5g of sugar in each snack pack!)
The Crackerz boast a whopping 8 grams of whole grains per serving
Hey Moms! There's a game in every box, because Mavericks believes in the power of play. So do I, and it was pretty darn awesome to see my kids enjoying something that didn't involve their devices!
Mavericks are a convenient, USDA "smart snack" option for on the go or at home
I can enjoy them, too, without feeling guilty about stealing the kids' junk foods
But, let's be honest. I can love them all I want, but the real test is whether the kids do! I decided to test them out on my own kids, their friends, and about 100 teens from our local marching band. Here's what THEY said...
Mavericks Snacks offers six delicious flavors so everyone can choose the kind they like (and they thoroughly enjoyed trying ALLLL the flavors!)
They loved the cool lightning bolt shape, which are fun to eat
Each Mavericks box includes a fun game, like Jetpacks and Meteors or Can the Cop Catch the Robber! Great for downtime at home or at band practice!
Less sugar? No way. (Yes, way!)
Whether you are craving sweet or savory, you know that Mavericks are a Mom-approved snack choice
You can't even tell that they are better-for-you!
You can find Mavericks Snacks at local Whole Foods or on Amazon. Use our exclusive Macaroni Kid discount code to save 15%!
15% Off any Mavericks Snacks item on Amazon
Enter code: MACKIDS15 (applied at checkout)
Expires August 31, 2020
| | | |
| --- | --- | --- |
| Super Snackers Eat Crackerz | | For Smart Cookiez |
Macaroni Kid Lakewood-Littleton was provided with the product and compensation for this review, but as always, the opinions expressed are 100% my own (and that of my kids!).