Hello! We are The Longsdorfs... Nicolle, James and our 4 children Brooklynne, Donovan, Adrian and Peyton. We are so excited to help you spread joy for all your special occasions!!
What We Do
A Card My Yard yard greeting is the perfect gift for birthdays, graduations, anniversaries and celebrations of any size. We are a full service yard sign rental company -- you book the order and we take care of the rest!
As the premier yard greeting company, we strive to provide customers with specially designed greetings, complete with personalized graphics. We are a locally-owned full-service rental company. We aim to add another level as you celebrate your milestones and special occasions. Being locally owned, we are able to assist you personally and serve the specific needs of our community. We LOVE making each yard card look amazing and we enjoy personalizing it for your special someone!
Our yard greeting packages are available for 24 or 48 hour rentals. All of our packages include two large graphics as well as coordinating star and balloon graphics at no additional charge. We deliver your greeting between 10pm and 8am to ensure a BIG surprise! You can use Card My Yard to celebrate ANY occasion. Birthdays, Graduations, Baby Showers, Cancer Survivor, Last Chemo, Retirement, Anniversaries, Welcome Home, Weddings... the possibilities are ENDLESS!

Giving Back to our Community
Being a part of our community is very important to us at Card My Yard Lakewood and across the entire company. During the months of September and October we donate a portion of our sales to Childhood and Breast Cancer research and support. We have donated signs to cancer patients coming home, to those ending chemo, and to local nursing homes, in the hopes of spreading as much joy where it is needed most. We also donate to local schools to help show extra love to the students and teachers in these trying times!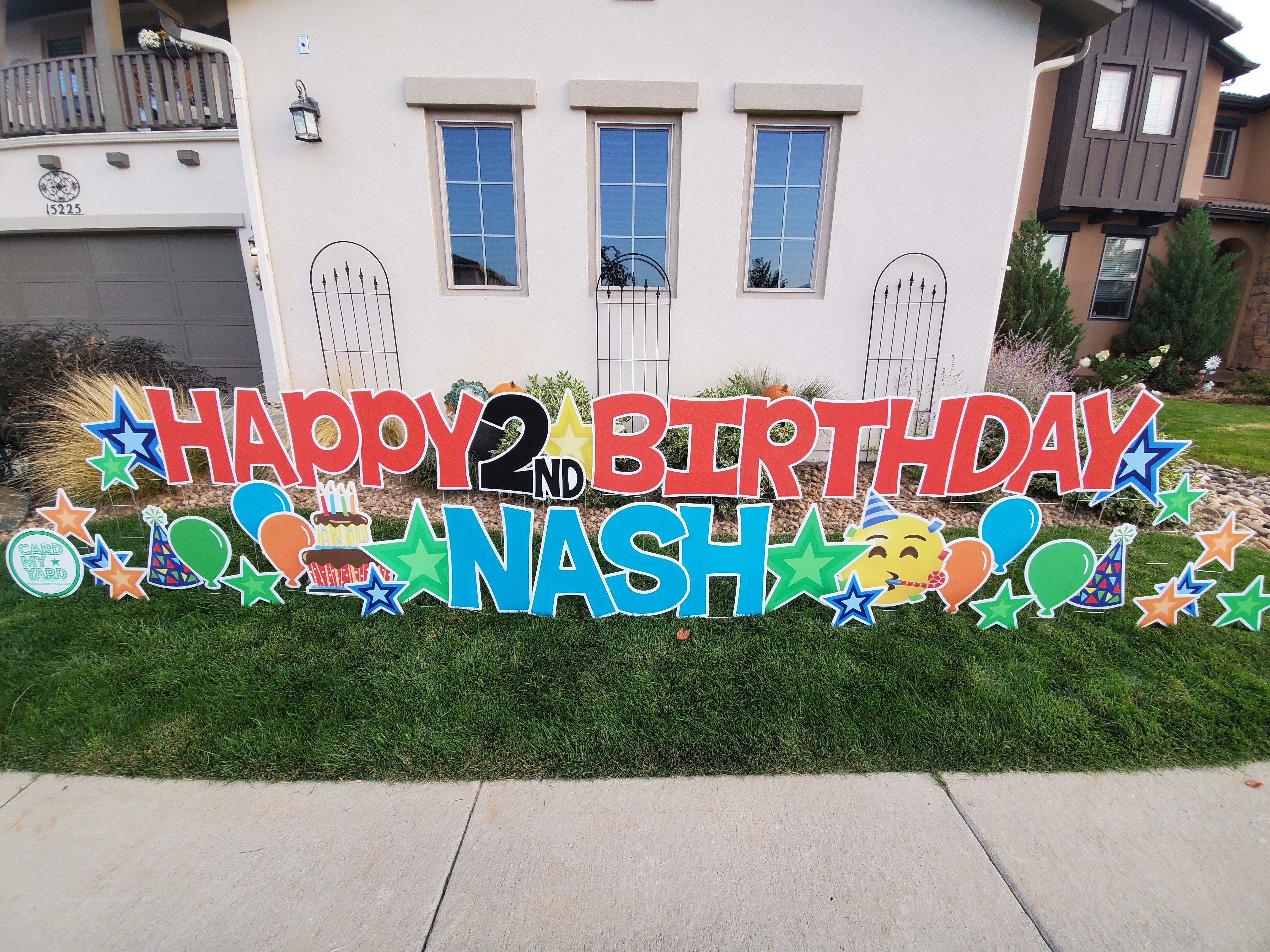 Card YOUR Yard
The ordering process at Card My Yard Lakewood is seamless. Our website offers a step-by-step process that allows you to customize your order, and build your setup according to your needs. After your order is placed you will receive several communications regarding your order to ensure that your greeting turns out exactly as you envisioned. We look forward to helping you celebrate your loved ones in a BIG way.
Skip the CARD, stake the YARD!!

ENTER TO WIN!
Macaroni Kid Lakewood-Littleton is thrilled to give away a 24 Hour Birthday Greeting from Card My Yard Lakewood (an $85 dollar value). For this contest, the greeting must be delivered to one of the following zip codes: 80214, 80215, 80212, 80033, 80226, 80228, 80227, 80232 and 80401.
Because we are as excited as you are about this amazing prize, we are giving you several ways to enter:

RULES: This contest will run from Saturday, October 31, 2020 through Sunday, November 15, 2020 at 11:59PM. One winner will be selected from all eligible entries on Monday, November 16, 2020. Winner will be notified by email and phone and will have 24 hours to claim the prize. If the prize is not claimed within 24 hours, an alternate winner will be chosen. You MUST be a subscriber to Macaroni Kid and 18 or older to enter. If you are not a subscriber and enter the contest, you will be automatically subscribed. See complete Official Sweepstakes Rules.
---
Our delivery areas include 80214, 80215, 80212, 80033, 80226, 80228, 80227, 80232 and 80401. Don't live in those zip codes? We can hook you up with a neighboring Card Your Yard!