Hey Mac Families,
I am really excited about something and I wanted to share it with you. Like many of you, I have had to pivot (and you know how much I hate that word!) at home, with school, at work, and in life, this year. Like many of you, I am a small business owner, and I have had to adapt to survive this pandemic and the uncharted waters that my businesses have had to navigate.
Yes, sometimes it was scary.
Yes, most of the time it was A LOT of extra work.
But, guess what....
You stuck around on this strange journey with me. You told me how much you appreciated the work that I put in to make your life a tiny bit easier. You opened my newsletters, you clicked through to my articles, you checked out my local business sponsors that keep Macaroni Kid a free resource for local families.
AND.... you pivoted right along with me.
THANK YOU.
In January, I introduced our Valentine's Day Family Date Night Kits. I was so proud of how they turned out, and the families who ordered them seemed pretty excited to have their Valentine's Day planned. PLUS, I had an absolute BLAST doing the activities with my own family (which includes a 10 year old boy and an almost 16 year old girl).
I literally had so much fun planning and assembling the Valentine's Day Kit that I decided that I was going to offer activity kits for other holidays and seasons!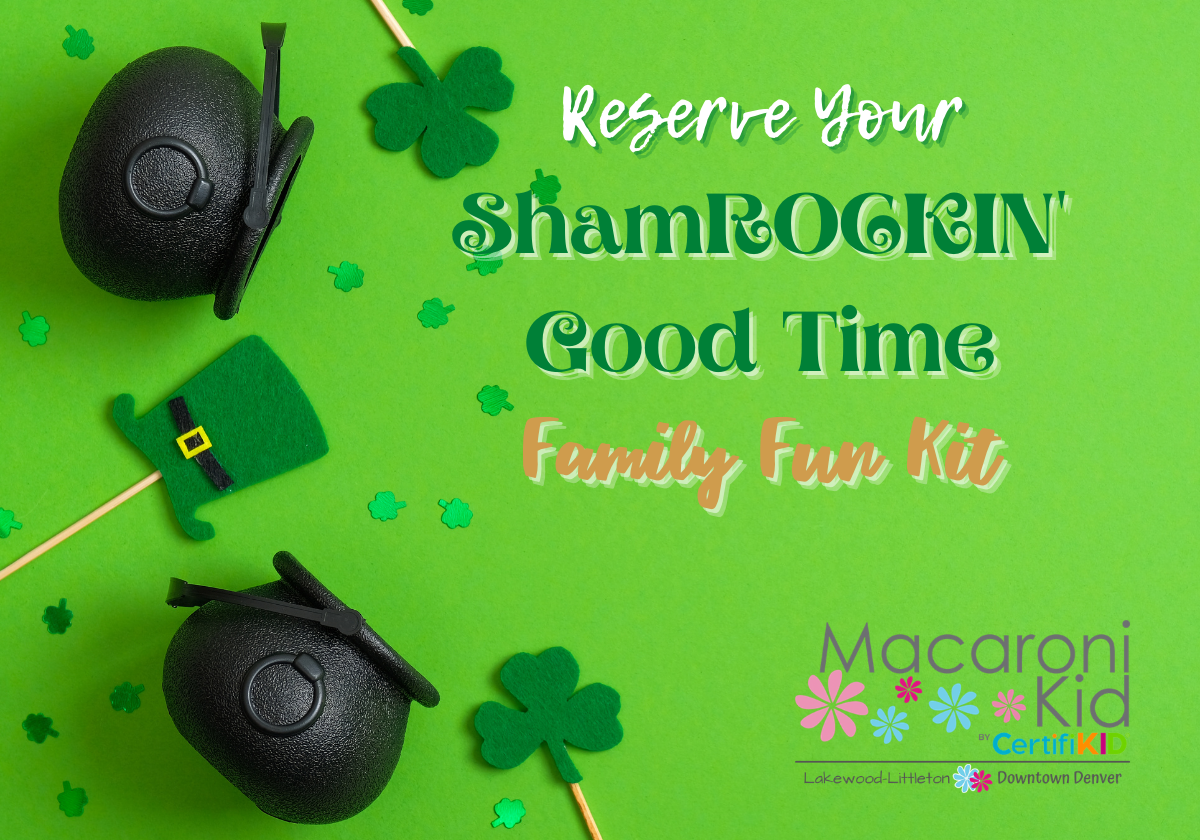 When I was a teacher, my FAVORITE thing to do for my class was what I called "theme out a unit". Creating activities around a fun theme is my JAM. This is why I continued to plan class parties for my own kids, marching band events, and ladies nights, long after I left the classroom. It is why I love planning family fun for my Mac Kid readers.
I hope that you will consider supporting us by reserving a ShamROCKIN' Good Time Family Fun Kits for St. Patrick's Day, and/or sharing the link to order with friends and family! I promise you will have tons of EASY family fun, and you won't have to do anything to prepare!

Peace ☮️, Love ❤️, & Macaroni 🌼,
Christen
---
💌 A Note to Our Amazing, Loyal Readers - Local Macaroni Kid websites and newsletters are FREE resources because of the local businesses who sponsor our sites. These local businesses are the heart of our community.
💌 I'm often asked how our readers can support me as a small business owner. The best thing that you can do is to actively support our site by opening our newsletter and articles, clicking on links and advertisements to check out and support our sponsors, using our event calendar and Business Directory, and liking and commenting on our social media posts! If you visit our site sponsors, please be sure to let them know you heard about them on Macaroni Kid Lakewood-Littleton!
THANK YOU for supporting our local businesses and Macaroni Kid Lakewood-Littleton!