If you have an Elf on the Shelf at your house, you know what a challenge it can be to keep up with the nightly shenanigans. Now that our kids are familiar with the word quarantine, we can use it to take a little break from our Elf duties. (One good thing to come out of a pandemic!)
We've created a fun and FREE way to announce your Elf's quarantine, and it comes straight from the North Pole.
---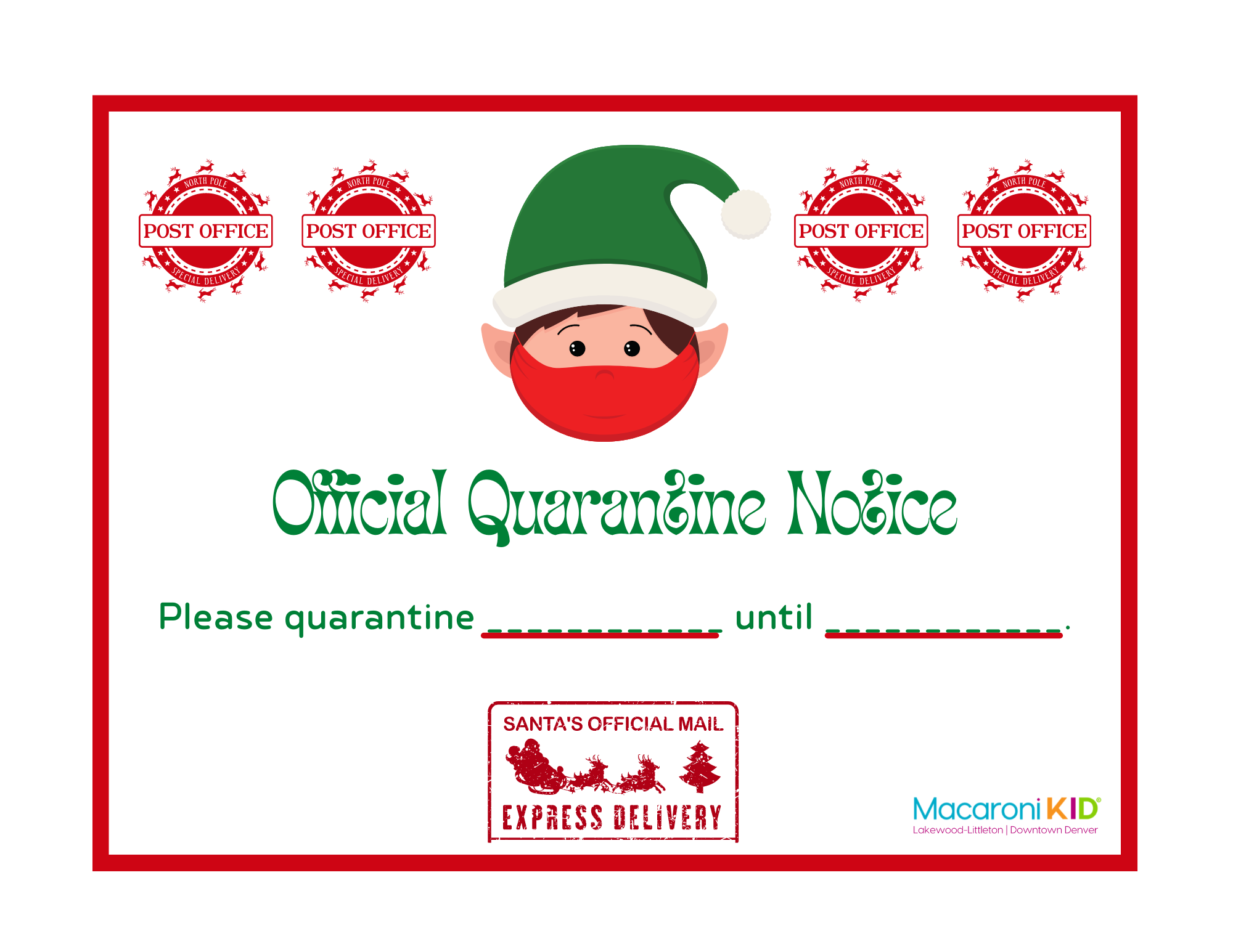 ---
PUT YOUR ELF IN QUARANTINE!
Print your FREE Official Quarantine Notice.
Fill in the blanks with your Elf's name and the date they must quarantine through.
Place the completed Official Quarantine Notice next to your Elf in the location where you would like him/her to stay for the duration.
NO NOT MOVE your Elf until the quarantine is complete!
After the quarantine ends, you can go back to moving your Elf daily until they return to the North Pole on December 24th.
---
BONUS IDEAS FOR EXTRA FUN
You can absolutely put your Elf in quarantine just by placing him/her in a safe spot, and that is 100% okay! However, if you want to add in some extra fun, try these bonus ideas.
Create a quarantine "room" out of a mason jar or other see through container. You can find some inexpensive ones at your local craft stores. Decorate with stickers and ribbon.
Make a tiny face mask for your Elf to wear during quarantine. Use a disposable paper one that can be cut apart and refashioned in the mini version.
Set your Elf up with a thermometer or tissues for their quarantine. Or, choose items that your kids associate with being sick... ginger ale would be my go to!
Put your Elf to bed for quarantine! A doll bed or a box covered in wash cloths or tissues works great.
Place your Elf in the lap of one of your child's stuffed animals for quarantine. What could be more comforting?
---
Be sure to print this Official Quarantine Notice and keep it handy this December. You never know when you will need take a time out from your Elf obligations.