Welcome home, Campers!
The season's campiest, quirkiest holiday tradition is returning to its original location — Stanley Marketplace — after a nearly sold-out run in 2019! Immerse yourself in a 15,000 square-foot, 360-degree kaleidoscope of yuletide cheer at this year's Camp Christmas!
Handcrafted by Camp Director Lonnie Hanzon and his band of Denver-based magic makers, Camp Christmas is a dazzling dreamscape made just for you. It's an invitation to come in from the cold and wrap yourself up in the ooey-gooey, eclectic rituals that have brought light to the darkness of winter for thousands of years.
At Camp, you can leave your worries behind, discover your holiday superpower, pay a visit to Santa, and savor craft cocktails from our Base Camp and Fairy Bars. You can wander through a surreal mashup of nostalgic scenes, scratch your head at playful pun trees, and, most importantly, reconnect with the joy of the season.
Camp Christmas is fun, fleeting, and just a little bit weird. It's everything you love about the holidays all wrapped up into one enchanting experience. Round up everybody on your Nice List and come get your spirit on!
---
My family was given complimentary admission tickets for Camp Christmas. All opinions are my own, and that of my family!
---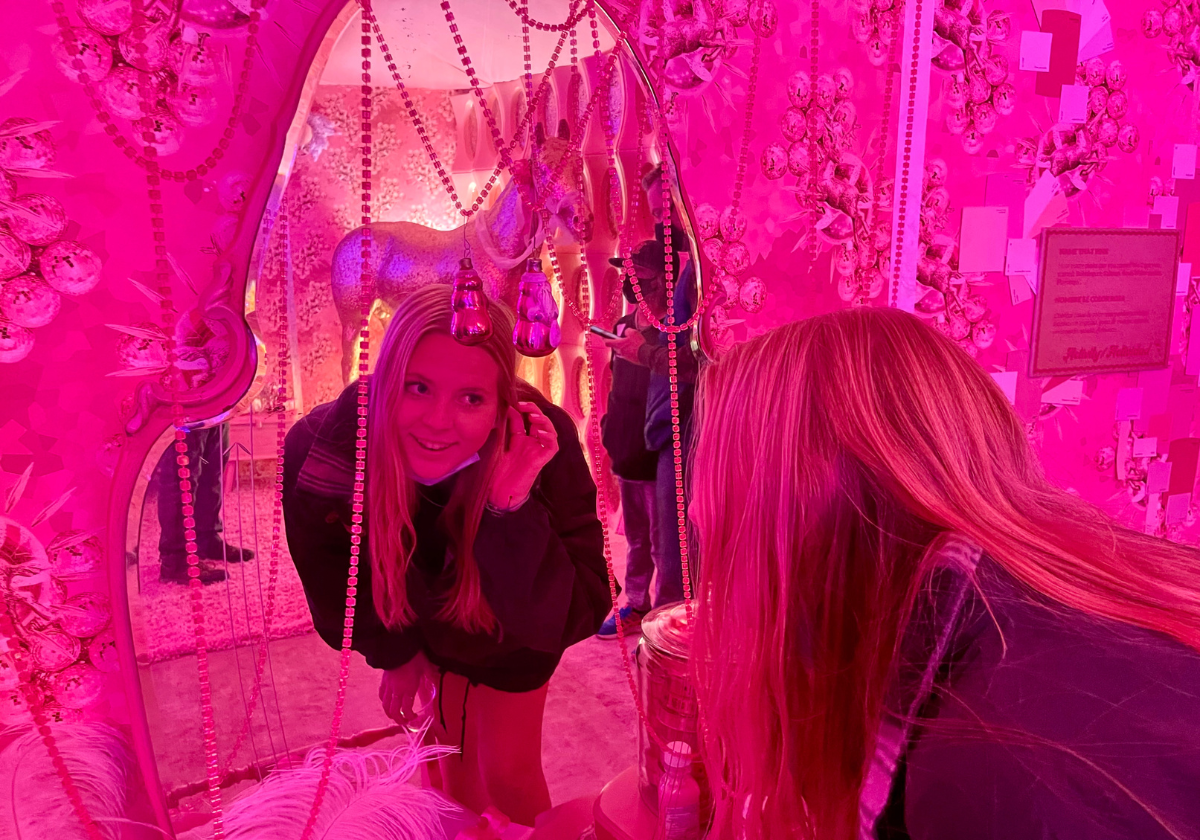 ---
---
My family loves Christmas.
Camp Christmas is an over-the-top celebration of Christmas history, but in the very best way possible. Surrounded by as much Christmas as could fit into one place, you are invited to take a journey through Holiday time. And we could not have loved it more.
🎄 IT'S MY FAVORITE BECAUSE...
There is literally something for everyone at Camp Christmas. Back in 2019, my then 9 year old loved completing his field journal along the way. My then 14 year old was in selfie heaven. My then 18 year old stayed busy finding the weirdest Christmas trinkets there. The hubs would have stayed all night if we let him... the history was fascinating. And I just loved looking at everything, hanging out with my fam, and enjoying the time immersed in Christmas. In fact, Camp Christmas has become one of our favorite holiday traditions.
🎄 MOM TIPS
Since Camp Christmas is located in the heart of the Stanley Market Place, we decided to make an evening of it. We ate a delicious dinner beforehand, and had ice cream afterward. It was a super fun evening for my family.
Reservations keep the crowds at bay, and allows you to enter in a 15 minute window.
Get your tickets NOW! Time slots are selling out quickly for this unique and fabulous event! Tickets start at $8.
Strollers are not allowed, so bring a baby carrier for your Christmas nuggets.
Have a family photo taken in Santa's sleigh! Santa's helper will use your camera or phone to take the shot!
Be sure to stop at the bar and grab a delicious drink -- you can carry it with you as you mosey through each area. They have fancy kids' drinks, too! (Extra cost)
Now, I don't want to ruin ALL of the surprises at Camp Christmas, so I made a little movie for you that highlighted some of our favorites parts of Camp Christmas at Stanley Marketplace back in 2019! We can't wait to see what Lonnie and his team have cooked up for 2023!
---
---
NEW THIS YEAR!
This season, we're introducing Theme Nights at Camp Christmas! If you're attending Camp Christmas on one of the Theme Nights, come decked out in that night's theme to get 25% off select DCPA shows and 15% off your Camp Christmas merch!
There will be Theme Nights throughout the Camp Christmas season, but we are super excited about this one!
Tuesday, November 28 – VERY Campy Fashion Show, produced by Factory Fashion!
Join us at the corner of Couture and Campy for a Fashion Show unlike any other! In this "unway" runway event, designers and models will show off their styles within themed zones throughout Camp Christmas.
5:00PM – 6:00PM = Youth Designer Showcase
6:00PM – 8:00PM = Professional Designer Showcase
---
TICKET INFORMATION
The Hangar at Stanley Marketplace | 2501 Dallas Street, Aurora
November 16 through December 24
Get your tickets NOW online or call the DCPA Box Office at (303) 893-4100.
Remember, the Denver Center for the Performing Arts is the only authorized provider for shows and related events produced and presented by the DCPA.