When was the last time you received a treat in the mail? There's nothing quite like opening your mailbox and finding an actual box addressed to you.
This is even more true for college students. They are typically learning how to live on their own, manage their time, find new friends, and deal with a wide range of feelings like loneliness, excitement, and homesickness. A box of goodies can provide college students a welcome reprieve from studying and dining hall food, add some fun to their days, and send a reminder that someone cares about them.
Whether you go all out with maximum creativity, or you keep it simple, we guarantee that the surprise mail will be appreciated. Here are a few ideas to get you started on your own care package.
---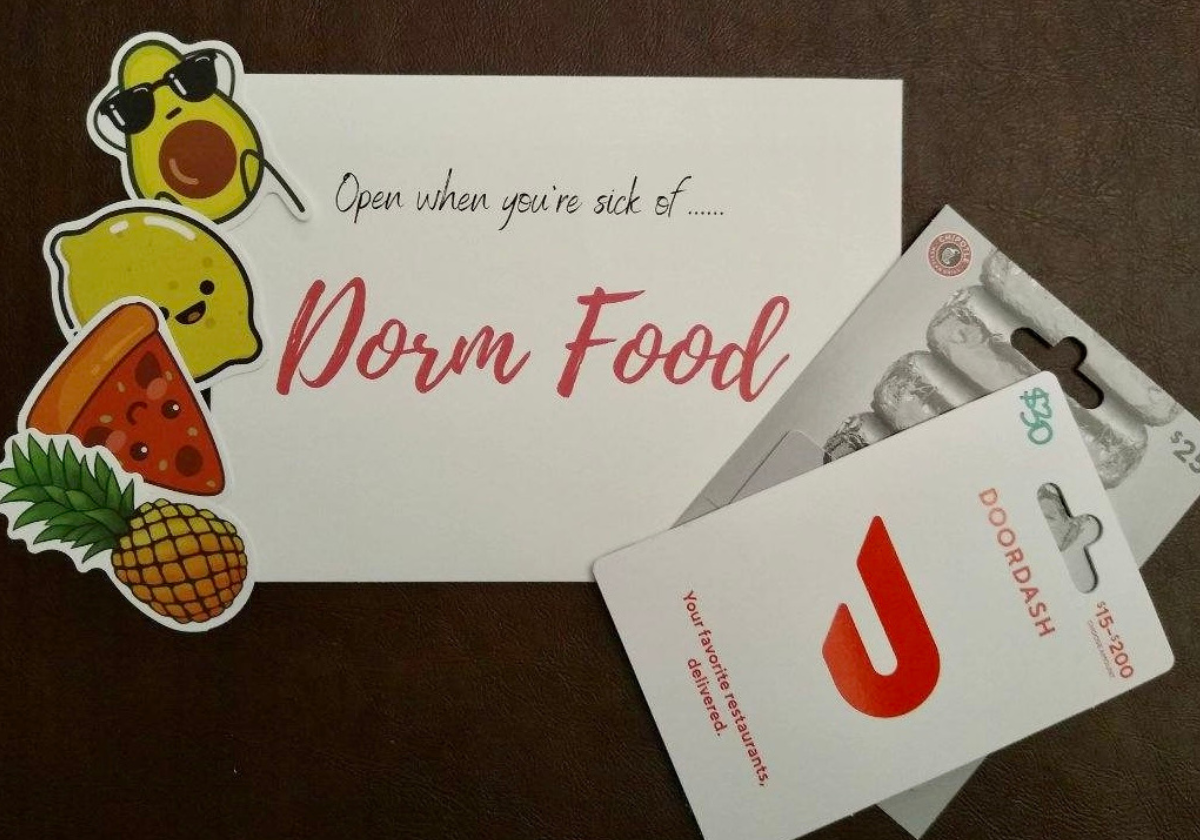 Photo credit: Beth Marketos
"Open When" Care Package
The Open When Care Package can be as easy or as complicated as you choose. Spend a few dollars, or spend more. Send one envelope, or create a set. Your recipient may open the envelope right away, or they may tuck it away for a time that fits. There are so many options that we think that this Care Package is a winner for everyone!
What to Include in an "Open When" Care Package:
Envelope ideas: bored, tired of dorm food, need cash, missing home, need a good laugh, feeling discouraged, want to celebrate, have a bad day, sweet treat
Envelope fillers: cash, restaurant gift card, family photos, card game, joke book, stickers, note of encouragement, confetti, candy
---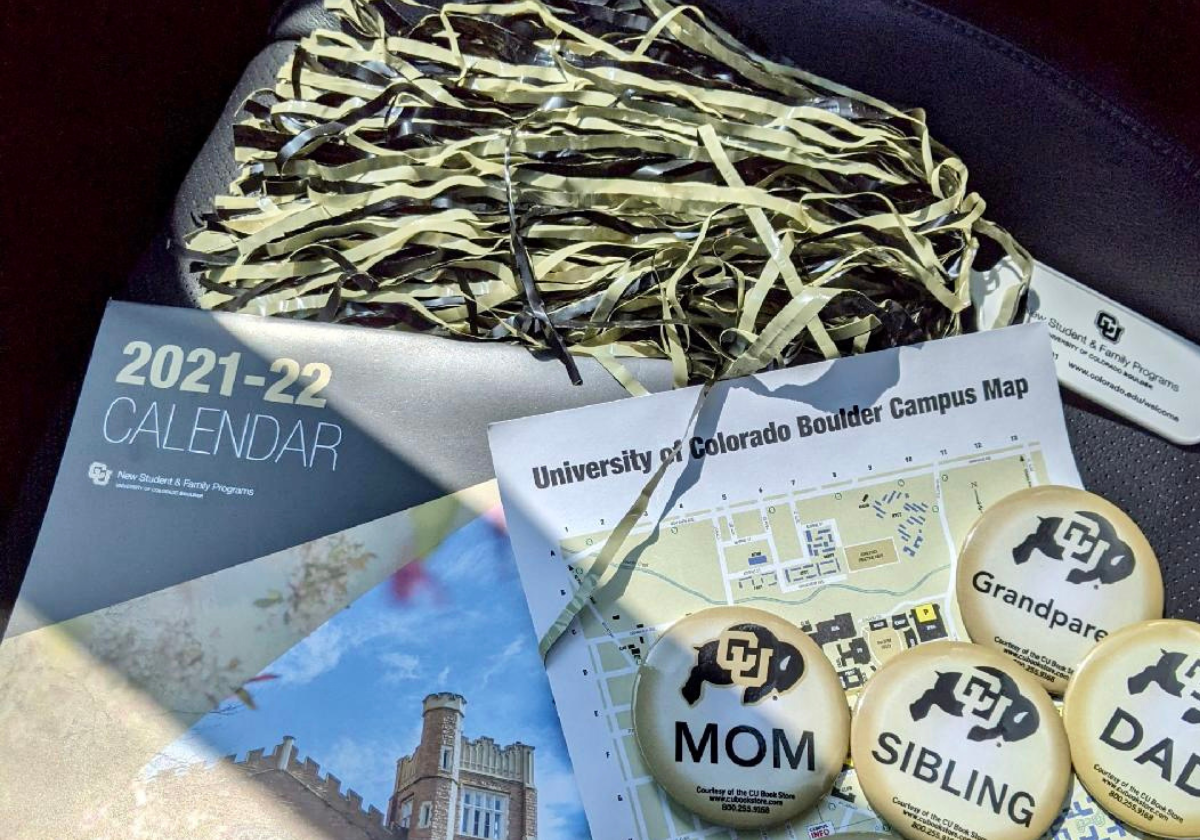 Photo credit: Beth Marketos
"School Swag" Care Package
Grab some swag from the recipient's college (most have online bookstores and check on Amazon) and send it off. Easiest Care Package EVER.
Fun Fact: The items in our picture were all free! Beth tucked away goodies she collected during her daughter's college visits. Smart!
What to Include in a "School Swag" Care Package:
Stickers, socks, water bottle, lanyard, keychain, beanie, tshirt, crew neck, blanket
---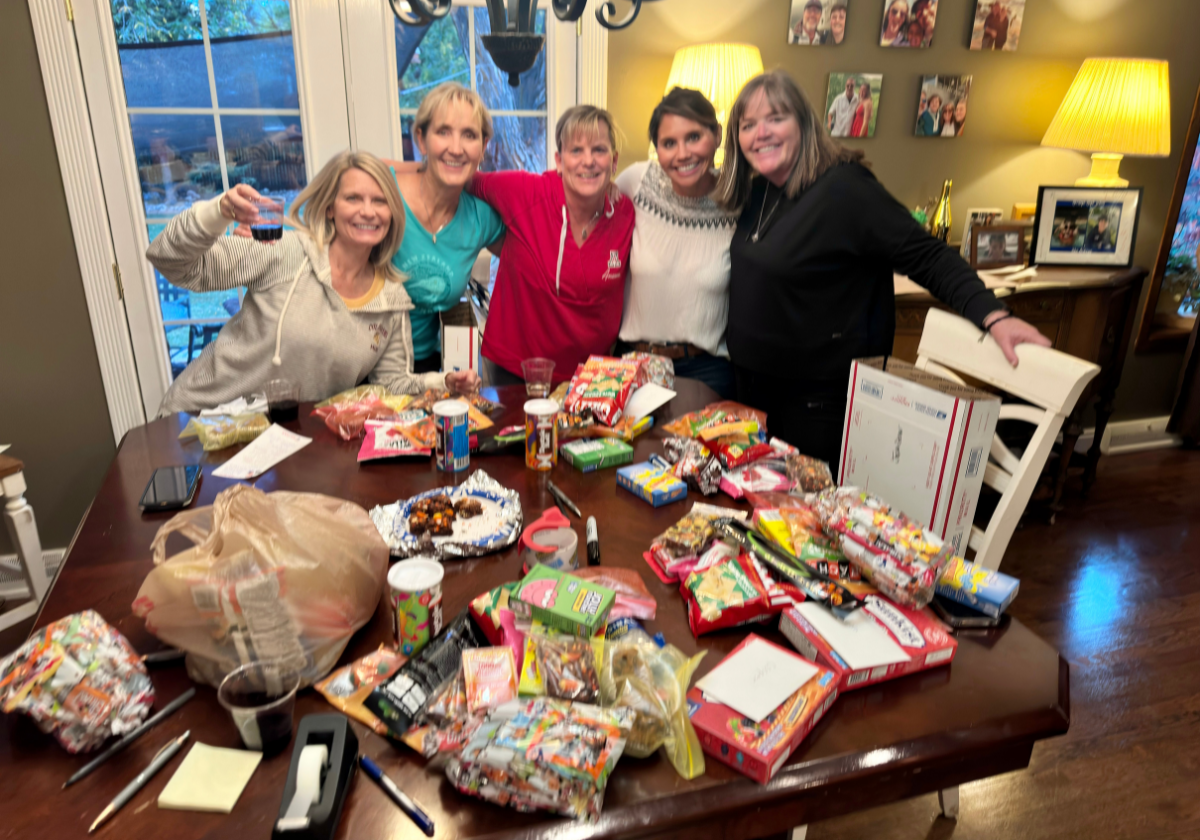 Photo credit: Eric Andrews
"Parent Party" Care Package
What better way to assemble a Care Package than to enlist some help! Invite a few parents over, and have each bring three groups of goodies. You'll need to know how many Care Packages you are preparing, because that will determine the number of items in each set. For example, if you are building five Care Packages, you'll need five items, all the same, in each set (like five packages of gum). Form an assembly line, create your identical piles, and pack them up. Voila! Instant Care Packages full of fun items. Add a note to your recipient, and you are good to go.
What to Include in a "Parent Party" Care Package:
Foods: candy, gum, chips, crackers, cookies, popcorn, beef jerky, Door Dash gift card
Drinks: instant coffee, tea, hot cocoa, water mix-ins, Starbucks gift card
Household items: mug, candle, personal fan, water bottle, office supplies, lights, nail clippers
Fun items: stickers, Whoopee cushion, water balloons, nail polish, stuffed animals, holiday decorations
---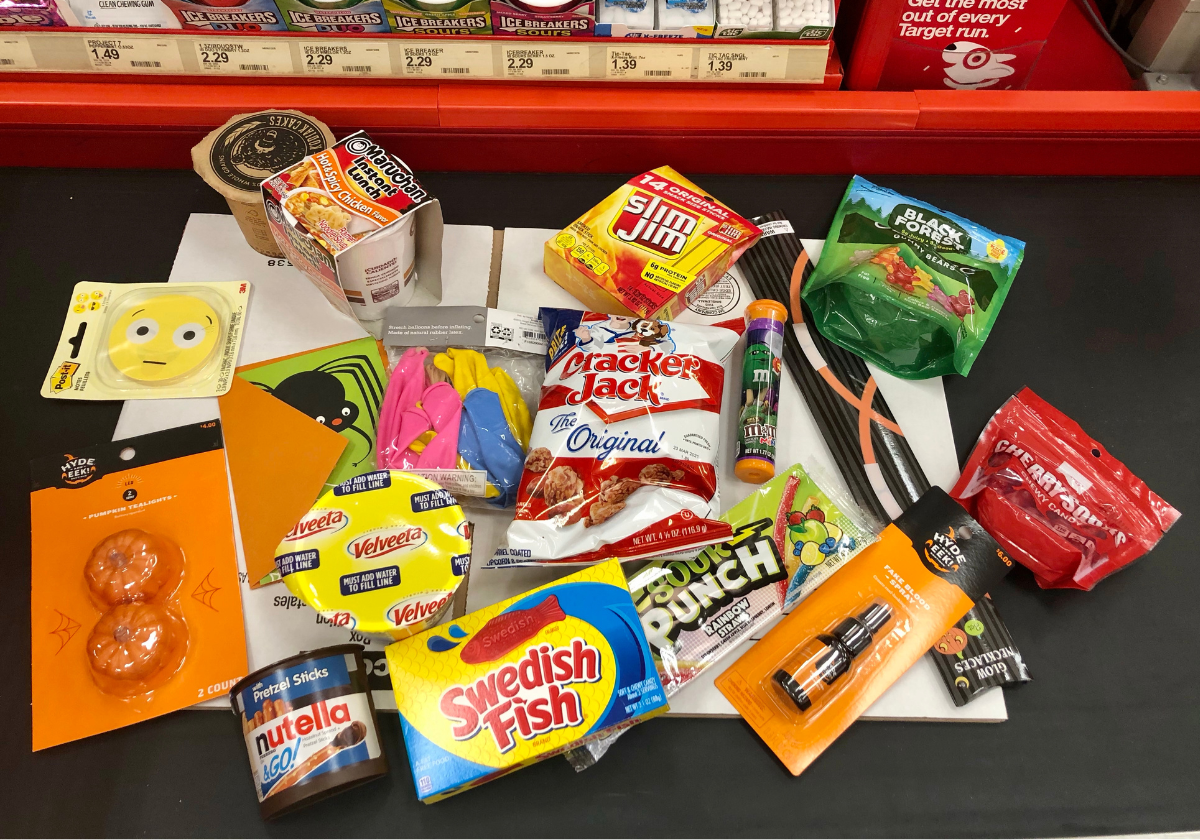 Photo credit: Carissa Guy
"Favorites" Care Package
You'll need to do a bit of digging to prepare a "Favorites" Care Package, but the results will be worth it! Ask parents, siblings, and friends of your recipient to help you come up with a shopping list. The nice thing about a "Favorites" Care Package is that there are no rules! Send a few items or fill a big box.
What to Include in a "Favorites" Care Package:
Favorites to include: candy, salty snack, sweet treat, activity, sport, color, quick meal, drink
---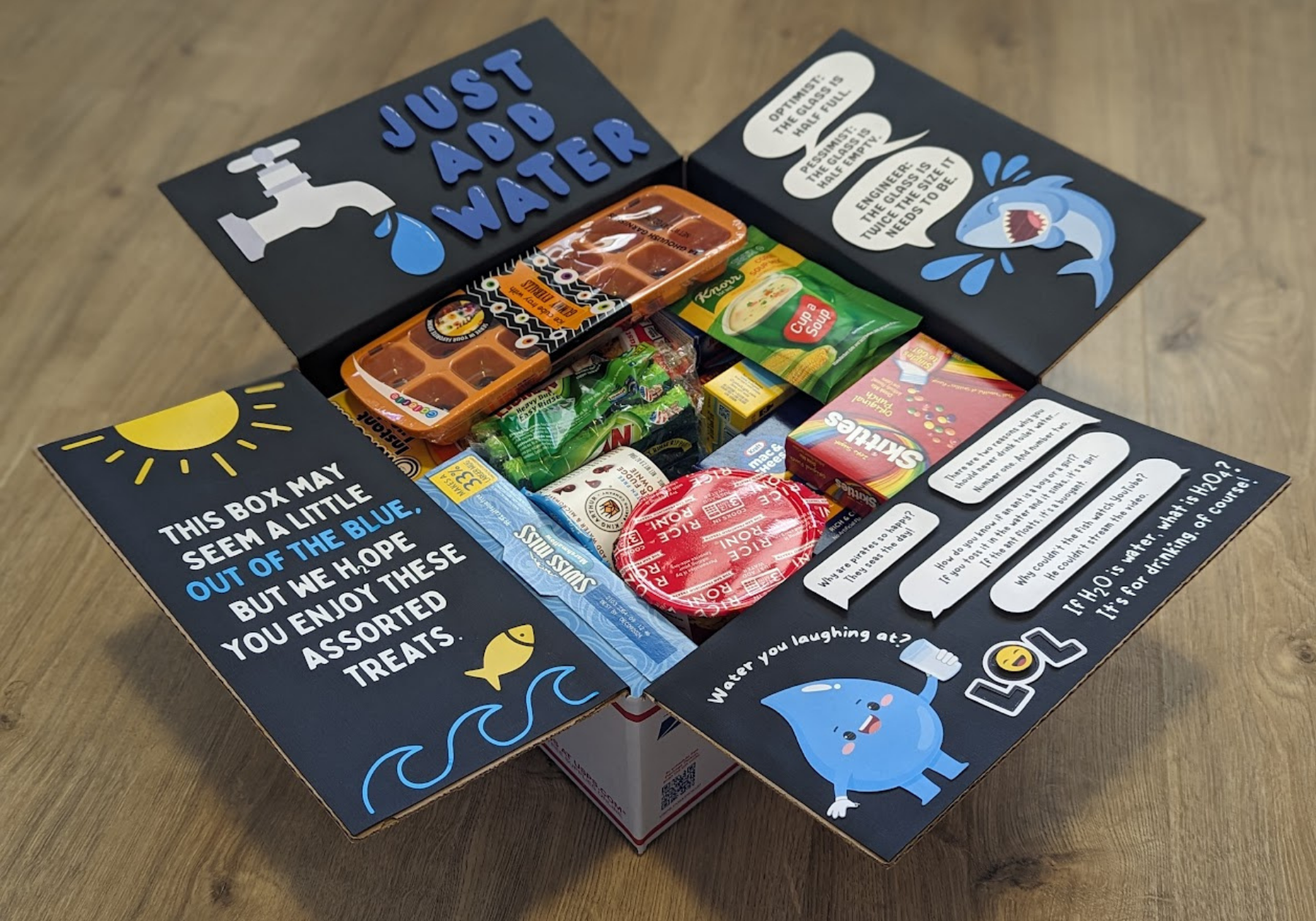 Photo credit: Sarah Hauge
"Just Add Water" Care Package
As its name implies, a "Just Add Water" care package is loaded with treats that only require a bit of H2O. From food to fun, there are so many choices for items that fit the theme, making this a versatile theme for recipients of all ages.
What to Include in a "Just Add Water" Care Package:
Foods: oatmeal, soups, ramen, gelatin, pasta, rice, couscous, quinoa, instant mac-n-cheese
Drinks: instant coffee, tea, lemonade, hot cocoa
Household items: sponges, ice tray, water bottle, soap, squirt bottle, hand towel, laundry detergent
Toys/Activities: watercolor paints, temporary tattoos, water balloons, squirt gun, Sea-Monkey® kit, Robo Fish, Water Wow! activity pad, Magic Grow animals, Water Beads, Color Reveal Hot Wheels
---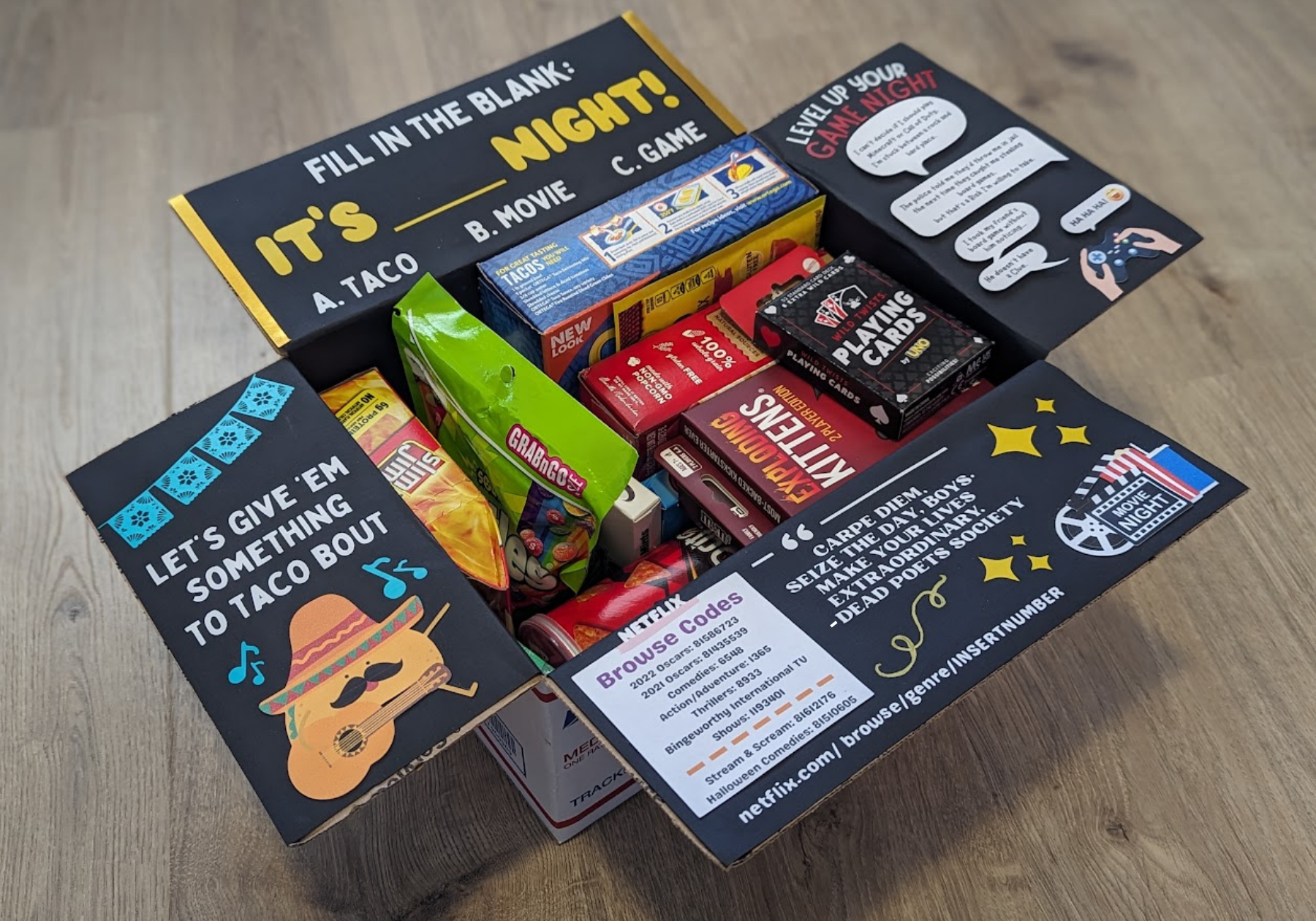 Photo credit: Sarah Hauge
"Fill in the Blank" Care Package
Can't choose just a single theme? Neither could we! A "Fill in the Blank" box is perfect for combining any variation of themes. In our example, we sprinkled in some fun treats for a taco night, movie night, and/or game night. The best part? The recipient doesn't have to choose. They can enjoy all of the above!
What to Include in a "Fill In The Blank" Care Package:
Sweet and Savory Snacks: microwavable popcorn, assorted candies, jerky, chips
Taco Night Fixings: Taco Shells, taco seasoning, guacamole seasoning, taco holders, avocado slicer and/or saver, tortilla warmer
Toys/Activities: Card games, dice, puzzles, movies (we added some Netflix browse codes in lieu of a physical DVD), arts & crafts supplies
---
Remember, Care Packages can be sent anytime, to anyone! Plus, whatever you decide to send to your recipient, you will be sure to make their day.
Have additional Care Package ideas? We'd love to add them to our list!